Spotlights
Similar Titles
Certified Dance Instructor, Professional Dance Educator, Accredited Dance Teacher, Licensed Dance Educator, Qualified Dance Instructor, Certified Dance Educator, Credentialed Dance Teacher, Registered Dance Instructor, Licensed Dance Teacher, Accredited Dance Educator
Job Description
Credentialed Dance Educators are typically choreographers or dancers who've achieved both a high degree of dance skill and plenty of experience as instructors. They teach in a wide range of settings, including college conservatories and K-12 school environments. Some work in private dance studios and community centers as Self-Enrichment Teachers giving lessons to students pursuing different dance styles for recreation, fitness, or preparing for a special event. Some educators consult on plays, films, concerts, and music videos. 
 
Being a "Credentialed" Dance Educator simply means the individual has achieved a specific level of education and training, as opposed to a non-credentialed dance instructor. Their missions are otherwise the same, i.e., to mold and prepare the next generation of performing artists or help students achieve other goals. Younger active performers may pursue teaching as a way to augment their income while advancing their performing careers. Dancers who are now later in their careers might view the teaching portion as the next phase of their dance careers, feeling the urge to pass on what they've learned. 

 Unlike subjects such as math or English, dance involves physical concepts and techniques. It's a fun but strenuous art form that requires passion and a commitment to healthy living and safe practices to avoid injury! 
Rewarding Aspects of Career
Sharing passion and inspiring others
Working with exciting music, movement, and choreographies
Enabling positive learning environments where students can unwind and express themselves
Keeping physically fit
Getting to showcase one's hard work in front of audiences
Helping students of all ages to develop their talents or simply have fun
Contributing to the broader world of arts
2019 Employment
16,900
2029 Projected Employment
17,900
The Inside Scoop
Job Responsibilities
Working Schedule
Credentialed Dance Educators may work full- or part-time positions, depending on the jobs they choose to take. Some work regular school hours; others might work nights, evenings, or weekends.  
Typical Duties
Create an engaging curriculum that covers the scope of the class
Prepare daily lessons with clear objectives
Ensure the practice area is clean, private, and clear of hazards
Set up audio or other equipment, as needed
Employ different teaching methods to instruct students individually and in groups
Instruct students on how to stand and move properly, teaching correct dance techniques to avoid injuries
Teach students about rhythm and interpretative movement
Adapt methods and materials to meet individual needs and interests
Encourage student development by exposing them to different styles
Observe and monitor performance to determine limitations and abilities and offer guidance for improvement 
Assess and grade students as necessary; help to ensure they satisfy course or training objectives
Prepare and administer tests, when applicable 
Additional Responsibilities
Stay in good physical condition to demonstrate proper techniques, if applicable 
Have all materials or gear ready in sufficient quantities 
Choose suitable music for dance routines including ballroom dancing like American smooth, American rhythm, International Standard, or International Latin, as well as styles like modern, hip hop, jazz, tap, ballet, folk, Irish, or swing
Research new music and dance styles or trends
Teach good safety practices and maintain a safe learning environment
Maintain order and discipline, ensuring students pay attention and are well-behaved within a positive environment 
Complete and keep student records as needed by the employer
Assist students who are facing difficulties or learning challenges
Share curriculum ideas with school leadership and faculty
Skills Needed on the Job
Soft Skills 
Agility and athleticism
Desire and aptitude to help others succeed
Discipline
Empathy and patience
Enthusiasm
Flexibility
Keen organizational skills
Monitoring and evaluation 
Non-judgmental approach to teaching
Persistence
Physical stamina
Sense of rhythm 
Skills for coordinating and instructing activities
Strong communication skills 
The ability to monitor and assess student behavior
Visualization
Technical Skills
Choreography
Familiarity with different musical genres, dance steps, and routines
Basic knowledge of educational software designed for K-12 students
First aid/CPR
Knowledge of human anatomy
Operating knowledge of sound systems and lighting 
Stage and performance knowledge
Different Types of Organizations
Charter schools
College conservatories 
Dance companies
Entertainment sector
K-12 public and private schools
Private dance academies and studios
Private dance studios
Self-owned businesses    
Youth centers
Expectations and Sacrifices
Learning to dance professionally requires years of intense training. It's Important to be aware of the risk of injury which can result from overuse and take the necessary precautions to practice and perform safely for both themselves and their students. 
It's only natural that dancers approaching their 40s might be ready to take up teaching. No matter how active they are in their professional dance careers, Dance Educators should always strive to live healthy lifestyles. This involves a routine of proper nutrition and exercise along with plenty of rest and recovery. So there is a lot of "behind-the-scenes" practice and training needed to be a Dance Educator, not counting the time spent preparing lessons, training, and choreographing routines. This is a profession where love of the art form and commitment to engaging students makes up for prep work and out of class rehearsals and performances.
Suffice it to say, this can be a busy job with a lot of time spent doing unpaid prep work. You might also have to commit to working nights and weekends to accommodate particular class schedules.
Current Trends
In 2019, 10% of dancers and 54% of choreographers served in some form of teaching capacity. Increasingly, professional dancers are turning to entrepreneurship, creating their own self-employment opportunities. Indeed, many leverage technology as a way to monetize their instruction via online virtual dance classes and tutorials. However, brick-and-mortar businesses are still alive and well, too! 
 
As of 2021, there are 56,116 dance studio businesses in the US, indicating that there's plenty of potential for dancers to get out there and teach others. That figure doesn't include K-12 and college teaching opportunities, which are also popular and may offer more employee benefits. 
What kinds of things did people in this career enjoy doing when they were young...
Predictably, most Dance Educators loved music and movement when they were younger. There's no end to the types of music they might have enjoyed; some may have loved listening to pop and dance songs while watching videos and practicing dance moves in their rooms. Others might have been enrolled in ballet at an early age, happy to dance along with classical music and give impromptu performances to friends and family. No matter what the music genre or style, most likely loved the spotlight at some point and wanted their hard efforts to be enjoyed by others. 
 
Credentialed Dance Educators are active types who relish physical endeavors. For them, working up a sweat is a way to feel alive. They might have engaged in other forms of exercise, such as sports, hiking, biking, martial arts, or swimming. Eventually, though, they kept being lured back to the addictive combination of music and dance!  
Education and Training Needed
A Credentialed Dance Educator is professionally trained and certified
Those teaching outside of K-12 settings may not need a bachelor's but will need certification as well as sufficient work experience 
Community colleges, universities, and specialized schools offer relevant dance certificates that can help you qualify for entry-level positions at private studios

Dance Parent 101 offers a comprehensive listing of dance colleges around the nation

Educators in public K-12 settings may need a bachelor's in a relevant field such as theater and dance arts, plus completion of a teacher preparation program as part of their degree

Most teaching prep programs incorporate an internship to allow for practice time instructing students at the grade you want to teach
An internship usually happens after your first two years of college
Students work under the guidance of a trained teacher, who will conduct observations and provide feedback on teaching efficacy 

If teaching in a K-12 setting, you require a state license or certification after graduation

Note, requirements vary by state and school type (public versus private)

Those who've graduated without doing a teaching prep program (but who still need one to qualify) can seek alternative certification. Check out the American Board for the Certification of Teacher Excellence and Teacher Certification Degree's Alternative Teacher Certification Guide for more details 
Most states require teachers to pass a Praxis exam before issuing a teaching license. Exams may include a Core Academic Skills for Educators 
K-12 teachers can expect a background screening that reviews criminal and credit histories
Some states or employers prefer teachers to obtain a master's degree. Other special requirements include: 

Awareness of and a commitment to diversity and equality in schools 
Familiarity with a second language in some schools 
Additional skills tests, if working with special needs youth

For more information, visit:

National Dance Council of America (NDCA)

NCDA Member Organizations

Dance/USA
National Dance Teachers Association of America
National Endowment for the Arts
North American Dance Organizers Alliance
USA Dance
Some students choose to study abroad. If that's an option for you, then review schools such as England's Royal Academy of Dance
Things to look for in a program
Many Credentialed Dance Educators get certified but don't require a university degree to teach (in particular those not teaching in a K-12 school system)
If you do attend a college or university, make sure it is properly accredited 

Most states won't grant teaching licensure or certification if your degree is not from a regionally accredited school and a program accredited by the National Council for Accreditation of Teacher Education (NCATE) or the Council for the Accreditation of Educator Preparation (CAEP)

Always compare costs of tuition, room and board, and scour the Internet for relevant scholarship opportunities and financial aid. The last thing you want is to graduate with a mountain of debt! 
Dancing is obviously a very physical topic to teach, so in order to learn how to teach it, you may want to attend courses in person as much as possible
If online courses or programs are more suitable for your situation, review them carefully to make sure they have a strong reputation and offer the level of credentials you need
Things to do in High School and College
Being a Dance Educator is like having two jobs at the same time — dancer and teacher! You'll have to become an expert at both and be able to combine skills from both
Professional dancing takes years to master, so practice early and often, and take as many public and private classes as you can! 
You must also develop people skills related to verbal communication, leadership, and teaching pedagogy 
Volunteer at your school to help with activities related to performance arts and events, especially ones that build leadership and activities management abilities
Take courses to help prepare for real-world classroom teaching, such as public speaking, psychology, special education, and behavior management
Find paid or volunteer opportunities where you can practice managing and coordinating lots of little bodies running around in different directions! Learn how to channel and focus their energies into a performance
Learn about and apply diversity and social standards in all educational settings 
Become a confident, approachable individual that students will feel comfortable in the learning environment you're creating for them to rehearse their moves
Stay in tune with your body and don't overdo it. If you push yourself too hard, you run the risk of permanent injury which can derail your dancing career in an instant! 
Typical Roadmap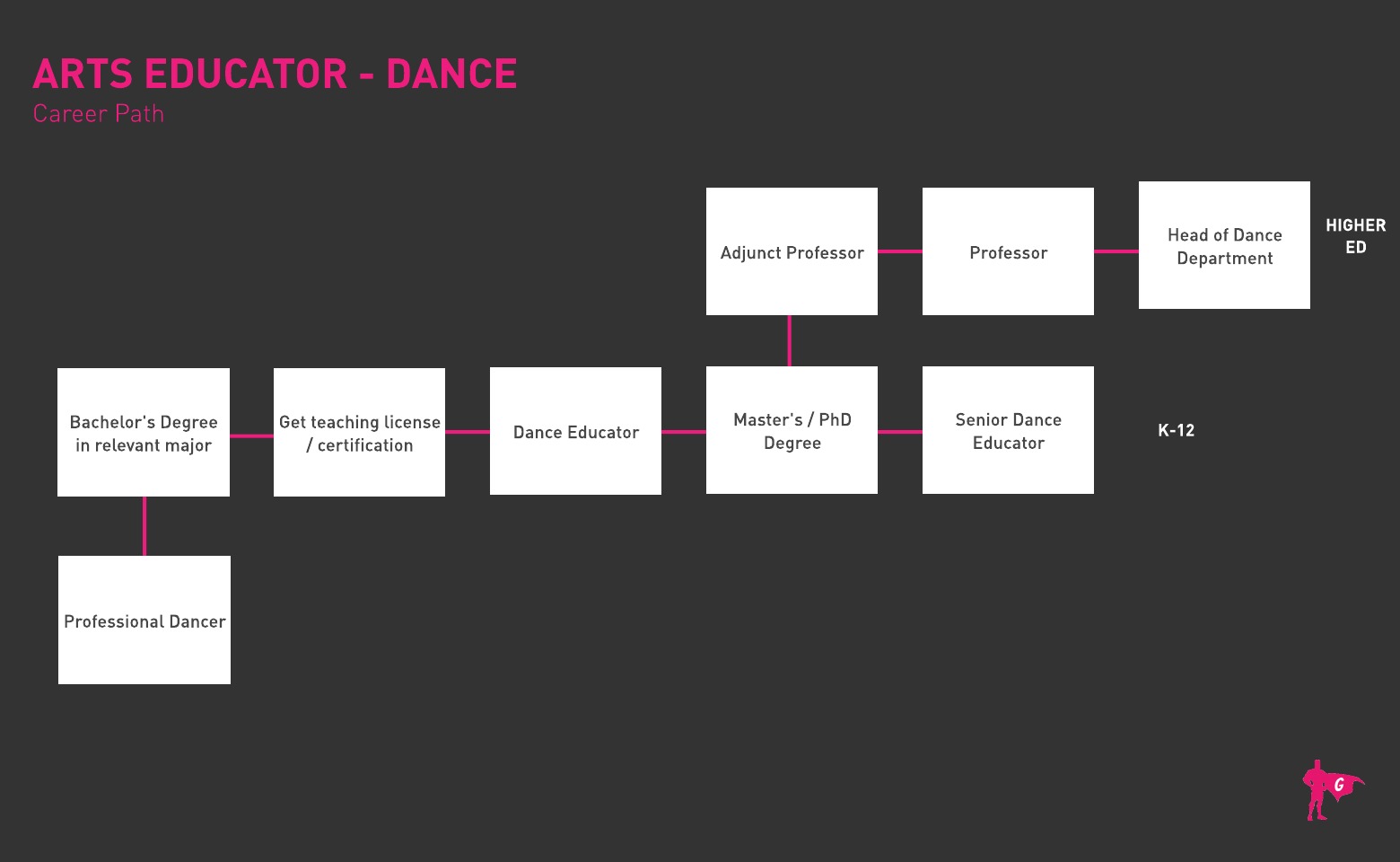 How to land your 1st job
Decide as early as possible exactly what type(s) of dance you want to study and teach, and in what settings you want to teach them
If you're going to teach in a K-12 setting, make sure you've obtained any state-required licensure or certification. This may include completing a bachelor's degree in a relevant field, finishing a teacher's preparatory course, taking Praxis exams, and passing a background check 
If you aren't teaching in a K-12 setting, then employers might focus more on your work history, so pack your resume or application with current and relevant details about where you have performed
Use quantifiable data when possible, such as statistics on how many people you've performed in front of, or how many classes and students you've already taught
Consider building an online video portfolio of your work, on your own website, Vimeo, or YouTube channel
Keep in close contact with your professional network who can advise you when openings come up, and who might serve as references that potential employers can call to talk about you 
Search through standard job portals like Indeed.com and Glassdoor but also closely review the sites of professional organizations that might have job boards (see our list of websites in the Resources section below)
Be prepared for interviews! Practice by running through a few mock interviews with friends
Demonstrate awareness and proficiency related to eLearning trends
Show your enthusiasm for both dancing and teaching! Employers want to know that you are focused on helping their students and not just on your own career  
How to Climb the Ladder
Build ties within the organization you work at! Get to know staff, peers, parents, and administrators, as applicable 
Complete additional training and professional development courses. If you have a certification, get a more advanced one or do a bachelor's. If you have a bachelor's, go for a master's! 
Demonstrate sincere caring for your students' progress, no matter what age they are
Build your teaching reputation within the community as well as your dancing reputation at the state or higher levels 
Keep your website, Vimeo, or YouTube channel up-to-date. Learn how to brand and market yourself and leverage the power of social media to get views
Teach workshops out of the local area to expand your presence at a grassroots level
Mentor others and help them grow to become future dance professionals and perhaps educators, too
Participate in professional organization activities and get your name out there as an expert on a particular style or niche
Keep the energy levels in your classrooms high by incorporating new ideas and techniques. Be mindful of student morale and take proactive measures to ensure all students feel welcomed, safe, and inspired
Read books and magazines and watch videos or attend live events to keep up with trends and stay motivated! 
Recommended Resources
Websites
American Ballroom Company
Arthur Murray International
Dance/USA
Dance Vision International Dancers Association
Fred Astaire Dance Studios International
Heritage Dance Foundation
National Dance Council of America (NDCA)
National Dance Teachers Association of America
National Endowment for the Arts
NCDA Member Organizations
North American Dance Organizers Alliance
North American Dancesport Teachers Association
Pan American Teachers of Dancing
Professional Dancers Federation
USA Dance
US Imperial Society of Teachers of Dancing
US Terpsichore Association
World Federation of Ballroom Dancers
Books
Plan B
The road to becoming a Credentialed Dance Educator can be a long and arduous one, but it's worth it for those who can't imagine doing anything else in their lives. But if you can imagine doing something else and want to explore alternatives, check out the Bureau of Labor Statistics' related occupations within the entertainment sector: 
Actors
Art Directors
Music Directors and Composers
Musicians and Singers
Postsecondary Teachers
Producers and Directors
If you're more interested in the teaching side of things, a few viable career paths include:
ESL Teachers
Career Teachers
School Principals
K-12Teachers
School and Career Counselors
Special Education Teachers
 
Newsfeed Featured Jobs Online Courses and Tools