Spotlights
Similar Titles
Convention Services Manager, Conference Planning Manager, Conference Services Manager, Catering Manager, Events Manager, Conference Planner, Conference Manager, Director of Events, Director of Conference Services, Certified Meeting Planner
Job Description
Event planners organize, plan and coordinate activities to make arrangements for professional events.
Rewarding Aspects of Career
You get what you put in: After years of experience, you can start your own business and you will have the power to decide your schedule/how hard you want to work/how much money you want to make.
It's dynamic: You do sit in an office for part of the job but you are also meeting with clients, vendors, and travelling.
It's a growing industry: It is projected that in the next 10 years there will be more opportunities for planners.
"I'm in the business of creating environments where people relax and have fun.  When the doors open and everything you planned works, it's a total rush. It is totally gratifying.  Also, you can never stop learning – both about new elements to put into an event and learning about new ways to get people to meet and retain information." Heather Keenan, President, Key Events, Inc.
The Inside Scoop
Description of Services
DMC- Destination Management Company
Provides services based on their extensive local knowledge, expertise and resources specializing in the design and implementation of events, activities, tours, transportation and program logistics.
Example) Let's say a company wants to have a convention on the west coast. That company's meeting planner chooses San Diego. The meeting planner would hire a DMC who has extensive knowledge of San Diego and already has the relationship with the vendors to arrange local travel (airport transfers, shuttles), meeting and entertainment (a tour of the city, a sporting event, a group dinner…etc).
Meeting Management
Organizes and plans large meetings/conferences for companies and organizations.
Responsibilities include site selection (which city? What venue?), contract negotiations (vendors, speakers), registration, speaker selection/management, housing, logistics management, financial management, and exhibits.
Event planning
This is what you think of when you think of what an event planner does, but in reality, event planning is a small part of an event planner's book of business. More glamorous and high-profile than the other services but less frequent.
Responsibilities include establishing dates, selecting and reserving the event site, budgeting, acquiring permits, coordinating travel/parking, developing theme of the event, arrangement of speakers, arranging décor/rentals, catering and security.
Example) Plan a festival, ceremony, competition, party, concert, wedding, company launch party…etc.
Skills Needed on the Job
Strong organization skills
Communication skills
Negotiations skills: Be able to negotiate with vendors and your clients. Have general knowledge of contracts.
Physical Stamina: Day of the event you are juggling a lot of tasks and you will be on your feet for many hours.
Problem-solving skills and being able to think quick on your feet
Inter-personal skills: Good with people. You are able to develop relationships with new people quite easily. Have them trust you.
Know how to use digital technology: software to help keep track of your budgeting, scheduling, details.
Where would I work?
Event planning company (includes Destination management company)
In-house: Corporation, Law Firm, Hotel/Casino, Non-profit…etc.
For yourself: many event planners are independent especially wedding planners.
Expectations/Sacrifices Necessary
Not regular business hours: Must work nights and weekends since events are not always during the week during regular business hours.
It's tiring: May have to work long hours to make sure everything is set for the event.
It can be stressful: Events are a "live" entity. You are performing on a daily basis.
May have to work with demanding people.
Social events (wedding, Bar Mitzvah, birthday) are the hardest: less pay, more headache b/c you are dealing with emotions, goodbye to summer vacation b/c most wedding are from May-October.
Current Industry Trends
In the past, people thought they can be event planners without experience/training b/c of the internet but now people know that event planning is a professional service, needed for the marketing/image of their company.
In a down economy, business conferences are the first to go. So corporate event planners might get laid off.
Healthcare is a booming industry. So those who specialize in healthcare events, will have a lot of work because health care professionals are obligated to do continuing education and go to conferences to keep up with their professional requirements/licenses. 
What kinds of things did people in this career enjoy doing when they were young...
"Everything I did when I was young was performance-related whether it was costume design or in fashion, travel. I'm not performing but I'm making a performance happen. Everything I did was an asset to where I eventually ended up." Heather Keenan, President, Key Events, Inc.
2016 Employment
116,700
2026 Projected Employment
129,400
Education Needed
The term "event planning" covers a lot of ground! From weddings to corporate events and award ceremonies, event planning entails a wide range of skills and tasks to be learned

It can also often synonymous with planning meetings and conventions as well as organizing exhibitions

Event Planners often get a bachelor's in meeting or event management, though students enter this field from a wide range of majors including business, hospitality management, or even communications

The more closely your degree is related to event planning, the more likely you can start off with increased responsibilities (and thus, generally higher pay!)

To boost your academic credentials, consider earning a certification from a professional organization such as:

O*Net lists

additional certifications

which have varying work experience eligibility requirements

Because there are so many different duties that can fall under the term "event planning," many employers want to see specific experience in addition to academic credentials

Having related work experience goes a long way in bolstering one's resume, so many students take part-time jobs working in hotels, convention center, wedding venues, or other common meeting establishments to gain practical experience and learn on the job
Credentials
This could look good on your resume; however, EXPERIENCE trumps education/certification. This is just a plus but definitely not something that will automatically get you a job or clients.
Certified Meeting Professional
It is a voluntary certification for meeting and convention planners.  To qualify, candidates must have a minimum of 3 years of meeting management experience, recent employment in a meeting management job, and proof of continuing education credits. Those who qualify must then pass an exam that covers topics such as adult learning, financial management, facilities and services, logistics, and meeting programs.
Things to do in High School and College
In high school, hone your interpersonal skills and take classes in communications, speech, marketing, business, and accounting

Get hands-on experience through volunteering! Volunteer with schools, churches, or community organizations to help plan events, coordinate functions, budget for purchases, order supplies, host guests, and manage logistical details. Make a draft resume and keep track of everything you do and how many people attended

Join the events committee for a club or social organization (i.e. Greek system) and plan an event at your high school or college (a dance, a fundraiser…etc). Getting experience even if it is volunteer experience is crucial for your resume.

Consider working part-time at local hotels, convention centers, universities, or corporations in roles related to large meetings and events organization. 

Get any job you can get that allows you to SEE and OBSERVE events: coat check, waiter/bartender for catering company, floral arrangement, restroom attendant at an event…etc.
Intern for an event planning company.
Create your own "lookbook" or Pinterest page: Gathering different looks, styles, decorations, food, styles so you can start developing ideas and your own style of what you want an event to look like.

Decide if you want to specialize in a particular area (like weddings)

Practice your

phone etiquette

and

customer service

 

Decide which learning method works better for you — in-person, online, or hybrid

Work with your academic advisor on appropriate electives

Review the various certification options available. Some require a few years of work experience but learn those requirements so you can plan ahead

Event Planners love to get together through professional organizations, so find one (or more) to get involved with!

Invest in a good camera so you can take plenty of photos of your work

Create an

online portfolio

and social media channels to brand and market your skills and services (and show off your past work to future employers)

 

Check out the

Dos and Don'ts of What Industry Pros Should Wear at Events

. Keep in mind wardrobe considerations should be in line with the event type

Keep up with industry trends by reading relevant articles (like those on

Skift Meetings

) and watching YouTube videos!
Education Stats
10.7% with HS Diploma
8.2% with Associate's
49.7% with Bachelor's
9.7% with Master's
1.1% with Professional
(% of employees aged 25 to 44 in the occupation whose highest level of educational attainment is)
Typical Roadmap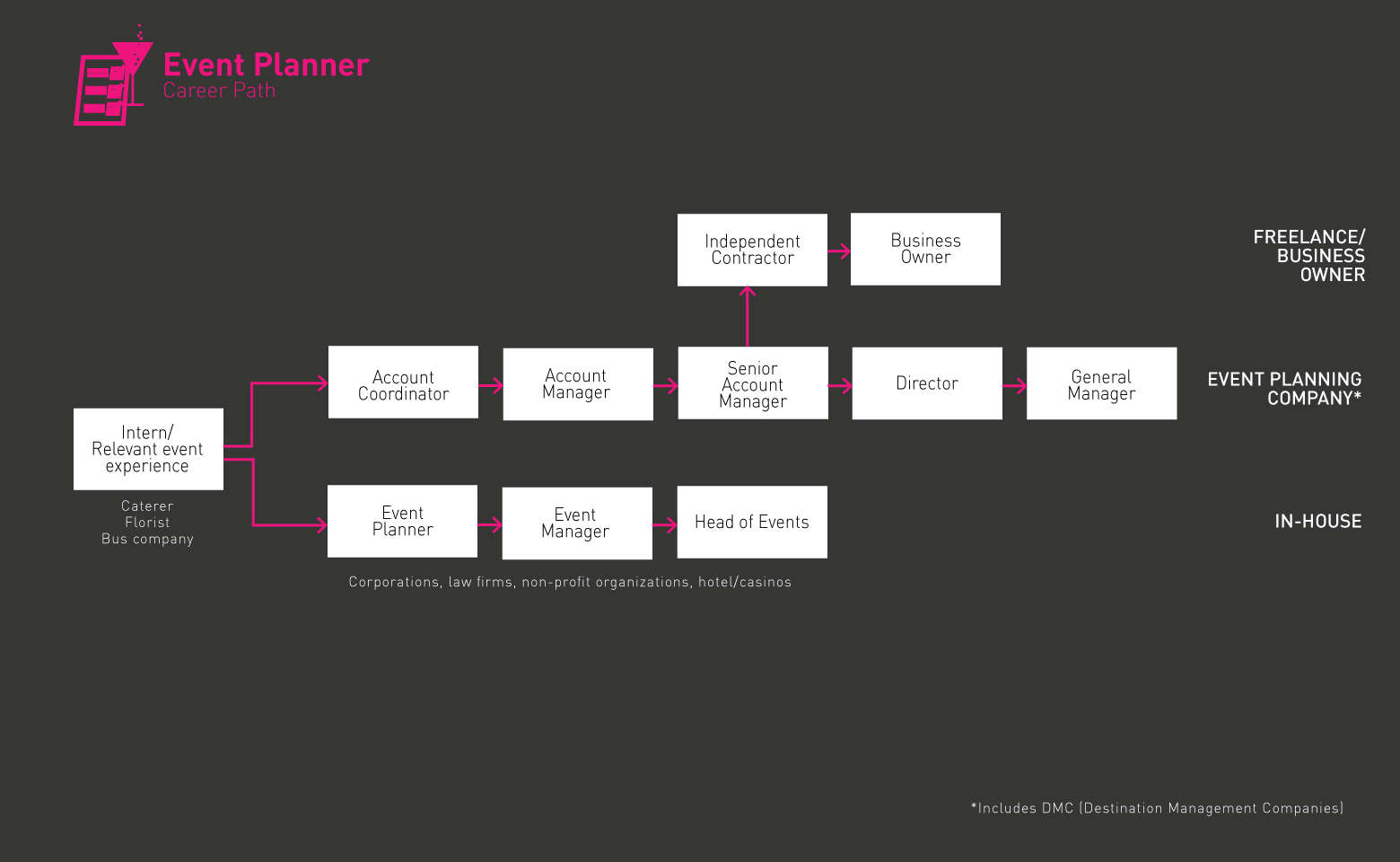 How to Land your 1st job
Let your network know ahead of time when you are about to finish your training

Work for a company that is involved with events: caterer, florist, bus company, bartender, lighting designer company and network! This experience will allow you to see from the inside what it is involved in putting together an event.

Work with your school's career center to find jobs, polish your resume, and practice interviewing

Consider where other Event Planners are working. Per

BLS

, work environments are:

20% - religious, grantmaking, civic, and professional organizations

10% - administrative/support services

9% - accommodation/food services

8% - arts, entertainment, and recreation

4% - self-employed

Make strong connections if you do part-time or volunteer work

Build a portfolio of relevant experience that you can show to prospective employers.

Keep records of any events you helped to plan, such as photographs and professional references from clients and vendors attesting to your reliability and expertise.

Spread the word about your

online portfolio

and social media channels to raise awareness 

Write articles and get published on event planning sites as well as networking sites like

LinkedIn 

Move to where the jobs are! The Bureau of Labor Statistics notes that the

highest concentration

of jobs for Event Planners are in Washington D.C., Colorado, Virginia, Utah, and Rhode Island

Review

Event Planner resume templates

for ideas

Make certain your resume is impactful, compelling, error-free, and contains plenty of stats and details

Look for opportunities on

Indeed

,

Glassdoor

, or even

Craigslist

for smaller jobs

Ask potential references in advance before giving out their contact info

Being ready for anything is the key to successful event planning! Prep for interviews by reviewing

common questions

and thinking of how you'd answer them!

Practice

mock interviews

so you can present yourself as capable and confident
"Anything you can do to SEE events. That's where people get the most exposure. Any extracurricular jobs you can get. I started as coat check. I saw every event that ever happened. If you can be a waiter, be a waiter at an event. If you can arrange flowers, get in with a floral company that does flowers for events.  If you are a janitor, be a restroom attendant where there are events. SEE IT!" Heather Keenan, President, Key 
What does an employer look for?
High energy: Can be up at 4 am, sleep at 1 am for 5 days in a row during an event and be on!
Resume: Worked on events.  Worked in college because it shows that you were able to do many things at same time.
Professional: Can you write a professional e-mail? Are you presentable?
"I look at where they have worked before and how long they have been there. I'm looking for someone who has passion, attitude, confidence, energy, someone who can think on their feet, someone I'd be proud of that can interact with a client…" Heather Keenan, President, Key Events, Inc.
How to stay competitive
Knowing multiple languages: This opens your options up to more clients and more events.
Keep up to date with technology: virtual meeting software, social media (twitter, Facebook).
Create a distinct brand and market that brand.
Recommended Tools/Resources
Words of Advice
"Make sure you love it because it's hard work. It's sort of like the circus. It's a calling, not just a job." Heather Keenan, President, Key Events, Inc.
Newsfeed Featured Jobs Online Courses and Tools