Spotlights
Similar Titles
Application Engineer, Design Engineer, Design Maintenance Engineer, Equipment Engineer, Mechanical Design Engineer, Mechanical Engineer, Process Engineer, Product Engineer, Project Engineer, Test Engineer
Job Description
Mechanical engineering is the study of objects and systems in motion. Individuals in this career take products from idea to marketplace. The field traces nearly every aspect of modern life, from the smallest micro-particle to machines to space crafts and even the human body. 
The field of mechanical engineering offers a vast array of career choices. This can be intimidating at first, but as students move through their education, they can find a career that aligns just right with their preferences and abilities. 
Rewarding Aspects of Career
Secure career with a promising future 
Generally a great salary - well above the national average - and your job will generally include benefits. 
Opportunity for career progression - most mechanical engineering graduates go on to further their education, leading to more and higher-level opportunities. Their skills are highly transferable. Some of the world's most successful companies (Microsoft, Amazon, etc.) are lead by an individual with an engineering background. 
You make a difference! - You could help solve the world's major problems like climate change and cyber security. You could create or assist in the production of a world-changing invention. You could save somebody's life with a medical device or alter it forever by developing a much needed prosthetic limb. 
Not only is it lucrative, it is filled with diverse opportunity. You can do anything, and you can do it anywhere in the world. 
2016 Employment
288,800
2026 Projected Employment
314,100
The Inside Scoop
Different Categories
Biomedical - medical devices, prosthetic limbs etc.
Aerospace - planes, rockets, choppers
Robotics
Nuclear Energy
Acoustical - work with sound and vibration 
Manufacturing - design the product and figure out how it will be built 
Thermal - work with thermodynamics. Heating/cooling equipment and management of power
Transportation systems - building new and improving old
Vehicle - automobile, marine, and aeronautical engineering
Skills Needed on the Job
SKILLS
Math - trigonometry, calculus, etc.
Research techniques
Proactivity and abilitiy to think outside of the box
Communication - many projects will require teamwork
CREDENTIALS
TOOLS:
Fiber sensors
Interferometers
Proximity sensors
Oscilloscopes
Accelerometers 
TECHNOLOGY:
Autodesk AutoCAD
MAYA Nastran
Ladder Logic
Sigmetrix CETOL 6 Sigma
The Mathworks MATLAB
Related Jobs
Computer engineer
Electrical engineer
Sales engineer
Petroleum engineer 
Architectural and engineering manager
Materials engineer
Mechanical Drafter
Computer Programmer
Education and Training Needed
Bachelor's Degree

Bachelor of Science in Mechanical Engineering - According to the Bureau of Labor Statistics, most entry-level mechanical engineering jobs require a Bachelor's Degree. 
4 year degree
Students learn how to design, test, and construct products. They gain a robust understanding of how to take these products from idea to marketplace. 
Gain technical skills, like how to use computer-aided design software (CAD)
Gain interpersonal and critical thinking skills that aid in working on a team and making sure that products are effective and safe 
*Make sure the engineering program you enter is ABET-accredited.

Obtain engineering license

This is required for all mechanical engineers in the US who directly service the general public. To get this license, you must pass the Fundamentals of Engineering (FE) exam, offered by the National Council of Examiners for Engineering and Surveying.
After four years in the field, you can take the Principles and Practices of Engineering (PE) exam, and obtain the Professional Engineer (PE) title. In several states, you must actively continue your education in order to maintain your license. 

Obtain certification (optional) - This is not mandatory, although it may help to demonstrate your competency in specific fields like advanced control systems design, dynamic systems, and stress analysis.

American Society for Quality - Certified Reliability Engineer    
American Society of Heating, Refrigerating and Air-Conditioning Engineers -

High-Performance Building Design    
Certified HVAC Designer    

American Society of Mechanical Engineers International - Geometric Dimensioning & Tolerancing Professional - Technologist    
Associated Air Balance Council - Test and Balance Engineer    
Association for Facilities Engineering - Certified Plant Maintenance Manager    
Association of Energy Engineers -

Certified Building Commissioning Professional    
Certified GeoExchange Designer    

Autodesk -

Certified Instructor Autodesk Inventor for Mechanical Design    
Certified Professional in Inventor for Mechanical Design    

Automotive Transmission Rebuilders Association - Chassis Technician    
Bearing Specialists Association - Certified Bearing Specialist    
Green Business Certification Inc. -

LEED AP Homes    
LEED AP Interior Design + Construction

Institute of Packaging Professionals - Certified Packaging Professional    
International Association of Plumbing and Mechanical Officials - Residential and Commercial Mechanical Plans Examiner    
International Council on Systems Engineering -

Associate Systems Engineering Professional    
Certified Systems Engineering Professional    
Expert Systems Engineering Professional    

International Fluid Power Society -

Fluid Power Hydraulic Specialist    
Fluid Power Engineer
Fluid Power Accredited Instructor
Fluid Power Connector and Conductor    

International Ground Source Heat Pump Association -

Certified GeoExchange Designer    
Certified Residential Geothermal Designer    

International Society of Automation - Certified Automation Professional    
National Ground Water Association - Certified Ground Water Professional    
National Inspection, Testing and Certification Corporation -

Mechanical Plans Examiner    
Mechanical Inspector

North American Board of Certified Energy Practitioners - Solar Heating Installer    
North American Transportation Management Institute - Certified Director of Maintenance/Equipment    
Society for Maintenance & Reliability Professionals -

Certified Maintenance & Reliability Professional    
Certified Maintenance and Reliability Technician    

Society for Manufacturing Engineers - Certified Manufacturing Engineer    
Society of American Value Engineers - Value Methodology Associate Certification
Educational Options to Match Goals and Needs
Online Degree 

Provides flexibility to schedule classes and course work around your life - family, full time job, etc. 

Bachelor's Degree

Provides a solid foundation for obtaining entry-level job and license

Master's Degree 

Allows you to become an expert in a specific area of mechanical engineering 

Doctorate

Provides the education needed to become a professor of mechanical engineering, and/or to conduct your own research in the field. 
Top Educational Institutions
Massachusetts Institute of Technology
Georgia Institute of Technology 
Stanford University 
University of California - Berkeley   
University of Michigan - Ann Arbor
California Institute of Technology   
University of Illinois - Urbana-Champaign
Purdue University - West Lafayette 
Cornell University 
Carnegie Mellon University   
University of Texas - Austin
Northwestern University 
Things to do in High School and College
Stock up on courses in math, engineering, applicable life sciences, physical sciences, design, English, and writing
Decide what sort of Mechanical Engineer you want to be, such as an automotive engineer, HVAC engineer, or robotics engineer
Gain practical work experience through Mechanical Engineer internships
Technology and software to become familiar with include:

C++, Perl, Python, R
Cloud-based data sharing
Computer-aided design / computer-aided manufacturing
Computer numerical control software
Configuration management programs like Perforce Helix software
Customer relationship management software
Databases
Enterprise resource planning software
Financial analysis software
Geographic information systems such as — ESRI ArcGIS   
Human-machine interface
Industrial control software
Materials requirements planning logistics
Microsoft Project
Microsoft Visio
Microsoft Visual Basic
Scientific software such as ReliaSoft Weibull++ and MathWorks MATLAB  
Supervisory control and data acquisition
Supply chain software

Read articles and watch tutorials about Mechanical Engineering
Interview a working Mechanical Engineer or see if you can shadow one for a day
Join professional organizations to learn about trends and grow your network
Get specialized with an in-demand certification
Typical Roadmap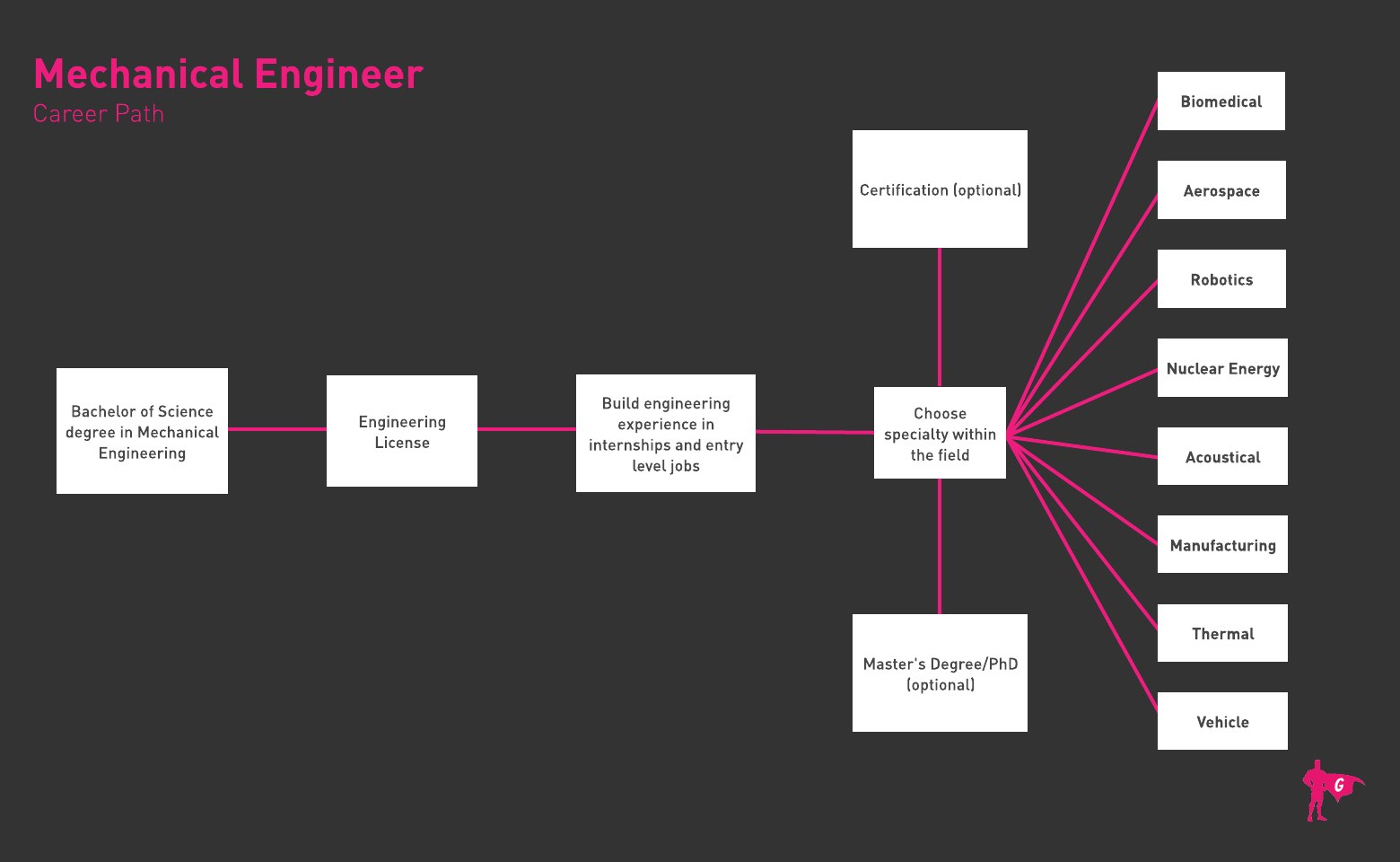 How to land your 1st job
Build a career portfolio

Basically, a story about yourself that will help you sell yourself to potential employers
Include:
bio page 
resume 
info about your coursework 
internships
volunteer work
language proficiency 
hobbies
testimonials/recommendations from people you've worked with like professors, bosses, or clients 
evidence of your technical skills, like projects you've completed or tables/flowcharts you've created
 evidence if your non technical skills; explain the character traits that you possess which make you an asset to a business

Choose the field that interests you

With so many opportunities within the mechanical engineering field, you'll eventually have to choose a discipline. You can always change this throughout your career, but work on finding your niche so that you can focus on obtaining specific jobs 

Get an internship 

This will open doors and could even lead to your first job 

Invest in yourself 

Never stop building your skills. Consider joining a professional network like the Institute of Electrical and Electronics Engineers (IEEE), the American Society of Civil Engineers (ASCE), or the Society of Women Engineers (SWE) 
Take an online course in your discipline 
Build experience. Look for short-term or freelance jobs. Complete personal side projects

Network 

Make sure the people around you know that you're looking for a job. Networking with your colleagues, friends, and family can lead to opportunity 
Reach out to alumni. Find out about college alumni networks associated with your school. Very often, alumni are more than happy to help a young person from their alma mater! 

Work part time or volunteer after graduation

Even if it's in an unrelated field, employers will like to hear that you've been using your time since graduation to generate revenue or volunteer for a good cause. This will also expand your network
If it is in a related field, this will hugely benefit your network and may lead to more connections and full time jobs in the field
Words of Advice
Think like a businessman. Understand the monetary implications of your products. How with their total production cost affect your team's decisions?
Think outside of the box and outside of your specialty. There will be times when issues or questions arise that are outside of your primary engineering discipline. Be able to learn the basics of whatever it is you're working on for your client. 
Be a good teammate. In this field, the best work often comes from collaboration. When engineers from various disciplines collaborate, issues are solved and products are created, but more issues may also be created if the team is not cohesive. Know how to network and communicate effectively. 
Follow the rules/know where you work. While some of the defining aspects of this career include creativity and ingenuity, you must also know your client and your boss, and remain within the confines of their boundaries and what they want. 
Innovate! Always be open to new ideas. Avoid the Not-Invented-Here attitude; don't discredit ideas simply because they originated outside of your group/company. 
Keep a positive attitude and have fun. Engineering offers so many opportunities that you can always move throughout the field until you find your perfect fit. 
Recommended Resources
Websites
Accreditation Board for Engineering and Technology
All3DP
American Society for Engineering Education
ASHRAE
Engineering Clicks
Engineering Toolbox
Engineers Edge
Fractory
GrabCAD
iMechanica
Interesting Engineering
LearnMech
MatWeb
MEMUK
MIT Online Courses
National Council of Examiners for Engineering and Surveying
National Society of Professional Engineers
SAE International
Society of Women Engineers
Technology Student Association
The American Society of Mechanical Engineers
The Manufacturer
TraceParts
Books
Newsfeed Featured Jobs Online Courses and Tools